Based in the multicultural city of Melbourne has given me the opportunity to work on diverse projects and use my translation and interpreting skills. Some of my most recent work includes:
Translating articles for the Courrier Australien 125th anniversary publication

https://thefrenchmarket.com.au/collections/collector-book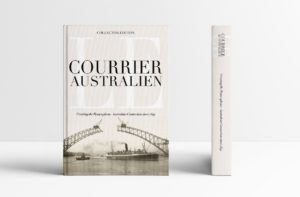 Teaching Interpreting in the Masters of Interpreting and Translation Studies at Monash University

http://future.arts.monash.edu/mits/
Interpreting for French architect Jean Nouvel at the Melbourne School of Design (May 2016)

MSD Presents: Jean Nouvel – watch the interview on YouTube.

The Australian Institute of Interpreters and Translators (AUSIT)

Presenter of Business Skills for Translators session (April 2016)

Moderator for professional development panel session – Topics in Translation (August 2015)
Project Manager – Bastille Day French Festival (inaugural edition 2015)
Organised a two day event at the State Library Victoria to celebrate the French national day www.bastilledaymelbourne.com.
Interview on SBS Radio

Office of Multicultural Affairs and Citizenship (OMAC) – 2013
Project work with the Language Services Team which aims to promote and develop interpreter and translator access for non-English speaking background (NESB) residents when accessing government services.

University of Melbourne
Sessional French language tutor, Faculty of Arts, Languages and Linguistics
French<>English Consecutive Interpreting for a lecture titled "Architecture and Non-Places" presented by Professor Marc Augé in December 2013. Professor Marc Augé is one of France's leading public intellectuals.
Melbourne French Theatre 
Part of the translation and surtitling team in the production of Francis Veber's comedy – Cher Tresor – in its first English production and premiere outside of France (2014). http://melbournefrenchtheatre.org.au/